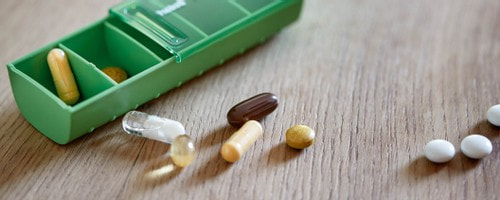 Salus Tablets & Capsules
Concentrated plant power
The Salus capsules and tablets have many extremely positive effects: they calm the nerves, strengthen the body's own immune function, promote vitality and increase potential – energy and strength for a healthy life.
Whether vitamin capsules, herbal or mineral tablets – our offerings in this range are all compact and easy to swallow (with plenty of liquid). They also make it easy to administer the perfect dose. Capsules and tablets have over the years made a significant contribution to the supply of medicines and to their safety. Strict licensing regulations and the high level of checks and controls ensure the quality of the product and lead to improved safety for the consumer. Salus capsules and tablets have earned their place in the day-to-day health care regimes of many people because they are so easy to take, so effective and have so many different uses.
Production of tablets and capsules:
Capsules and herbal tablets contain plant extracts as their active ingredients. Salus uses exclusively organic agents (water, alcohol, wine) to extract the soluble components from the plant. The liquid extract obtained is carefully concentrated and then separated again from the extraction agent in a vaporization process. Drying takes place in the vacuum belt drier. After a final quality test the dry, powdered extract is ready for the production of tablets and capsules.