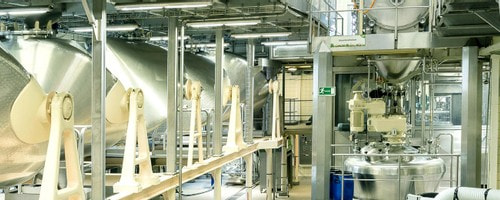 Production of liquid products
The Salus tonics are well known and appreciated all around the world. They are produced together with tinctures and extracts in particularly gentle procedures.
Whether it is called "Floradix® Liquid iron and vitamin formula" or "Floradix® Vloeibaar ijzer-elixir met vitamines": our tonic Floradix® Liquid Iron is globally known and appreciated. Floradix is part of the innovative range of Salus liquid tonics. They combine new scientific findings about the health promoting effect of herbal ingredients with the experience of 100 years of pharmaceutical production.
Swimming in tonic
With the quantity of liquid tonics produced at Salus during one year
you could fill an Olympic swimming pool.
Because of the high quality requirements, Salus produces its liquid tonics exclusively at the company site in Bruckmühl, in the south-east of Germany. In the liquid- and extract production, the products are manufactured by means of gentle procedures. In a first step, the active ingredients of the herbs are extracted in big mixers. Controlled by means of a complex, modern process control system, the extracts are further processed in other facilities with different procedures. Other ingredients as e.g. minerals are added according to the composition. Continuously, the liquid tonics are bottled.
In another production area, the obtained extracts are concentrated through different evaporators. Afterwards, in a gentle procedure, they are dried under vacuum and pulverised in order to serve as a basic material for tablets, capsules and coated tables.
Every production step is monitored by the Salus-own laboratory. The laboratory takes part in the selection of the suppliers and the raw materials, and controls the complete production process up to the finished product. This is the only way to guarantee the highest possible quality.