How it all began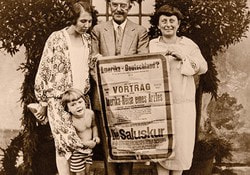 "One forgets all too easily that we do not live from what we eat, but only from what we actually digest." (Dr. med. Otto Greither)

To this conclusion came the physician and medical practitioner Dr. med. Greither after he became severely ill himself. Throughout his life Dr. Greither was curious and thirsty for knowledge. Soon after his doctorate in 1896 he trained further as neurologist and learned under eminent doctors. But that's not all: He also studied veterinary medicine and in Berlin he added another field, that of dentistry.
"That led me to learn about the importance of natural nutrition and the correct use of teeth when chewing the food as a prevention against the countless illnesses, which start in the digestion and the intestine."
This knowledge helped him later, when he, who had never been sick before, became ill at the age of 30. "I became nervous, suffered from physical weakness […]. I felt miserable and could only recover slowly due to my chronic weakness."
When his condition deteriorated, his doctors decided on a stomach operation. But, while preparing for the planned operation, the "miracle" happened, because enemas with water dissolved the blockages. However, the illness returned after a short while with a vengeance. Confined to bed again, he thought a lot about his illness. His extensive medical knowledge helped him in this regard. His experience with the previous illness made him believe that there must be a connection between his nutrition and his poor health. He did not rule out the possibility that inadequate digestion might also have triggered the illness.
Therefore he restricted his diet and further developed the self-massage against constipation, which also life-reformer Viktor Prießnitz had used. Greither coined the term "abdominal thrusting", meaning the upwards thrusting and bulging out of the stomach in rhythmic movements.
After he succeeded in healing himself by a restricted diet and the technique of abdominal thrusting, he set out on a migratory life as physician and researcher. He substituted in colleagues' practices throughout Germany to study regional differences in their food habits. For six months he studied technical books and travel reports in the Prussian State Library in Berlin about the nature of nutrition all over the world. Later on, he travelled to far-distant countries. The stomach muscle training of an Indian tribe using a stone placed on the stomach, inspired him to develop his abdominal thrusting belt.
Because of his previous illness Greither developed the Salus cure and founded the Salus works in 1916 in Munich on the Türkenstraße. The cure is based on the two principles: "Healing means cleansing" and "Healthy by yourself". A cure pack consisted of 900 grams of Salus oil for cleansing the intestines and two packets of Greitherna pastilles for purification. Sometime later came healing peat and healing clay for disinfection of the intestine, "Dr. med. Otto Greither's Munich health tea" to stimulate the metabolism and dissolve uric acid and Salus herbal drops as well as the abdominal thrusting belt, to intensify the stomach "thrusting".