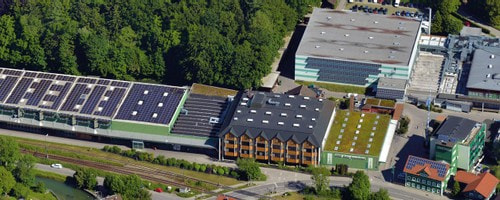 SALUS Haus
Since 1916 at one with nature. Dedicated to health care.
In ancient Rome, Salus was the goddess of health and public welfare. The company founder Dr. med. Otto Greither chose the name taking account of the well-being of his fellow men and women. This attitude has not changed in the 100 years of our company history. Your health is our top priority.
From the power of nature we offer a wide range of tonics, teas, drops, elixirs, tablets and more. With utmost care we select the best herbs and ingredients according to their efficacy and tolerability. A pharmaceutical, supplement or food is only ever as good as the raw materials it is comprised of. This is why at Salus we prefer to source them from certified organic cultivation. As a matter of principle we do not use raw materials from genetic engineering in agriculture. Many of the healing plants Salus uses are very rare. Therefore we make an effort to cultivate wild plants.
Our approximately 650 products combine nature with innovation and quality. In the Salus scientific department, more than 50 employees develop new products and scrutinize raw materials and goods. For production Salus adheres to the highest pharmaceutical quality standards and the organic quality standards for food.
The Salus company group is located in Bruckmühl, Upper Bavaria, and comprises the individual companies SALUS Haus Dr. med. Otto Greither Nachf. GmbH & Co. KG, SALUS Pharma GmbH and Walther Schoenenberger Pflanzensaftwerk GmbH & Co. KG. All of them have many decades of experience in the industry of remedies. With more than 400 employees we achieve an annual turnover of 100 million euros and export our products to around 65 countries worldwide.