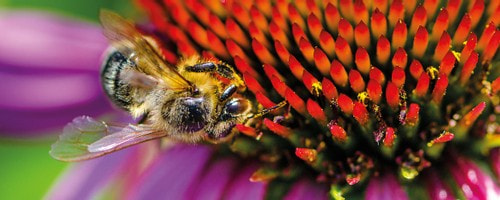 The environmental guidelines of the SALUS group
Since its foundation the Salus group is dedicated to health and well-being. The preservation and careful use of our environment is to us the most important precondition. We therefore aim to manage our products and their production and control in a process of continuous improvement, so that environmental harm can be avoided or minimized as much as possible.
To meet our ecological responsibilities we undertake to observe the following environmental guidelines.
We aim to source a continuously growing and as large a percentage as possible of our residue-checked raw materials from organic farming, to promote economic activity in harmony with nature on a global level.
Honest environmental protection is only achievable when the whole team is involved and motivated. For this reason all employees should be as well-briefed and well-informed as possible, so that they can play an active role in the environment protection.
With environment protection, problems have to be tackled at the root. Consequently, we test each and every new product, procedure and new activity in advance in order to assess the environmental impact.
Our interaction with the environment is constantly monitored, documented and analysed for weaknesses, so that we can ecologically optimise our operating processes with the resources available to us.
We commit ourselves to comply with legal requirements. We are furthermore dedicated to working on the continued improvement of the company environment protection policies and so we are open to any new ideas or changes concerning the environment.
We encourage all our employees to play an active role in improving the company's environment protection. Suggestions for improvement are positively accepted and rewarded. We also encourage our customers to critically appraise us and our products and to pass on any suggestion for improvement.
We constantly work on reducing our consumption of raw materials, particularly in terms of water, energy, packaging and transport.
We pay particular attention to the use of auxiliaries (e.g. detergents and disinfectants, lubricants) to ensure that they are as environmentally friendly as possible, and that they are disposed of in a way that is not harmful to the environment.
We give preference to suppliers and companies that pay as much attention to environment protection as we do, and we involve them in our environment protection activities.
We have set up a fault management system to avoid environmental pollution and to ensure that people are not harmed in the event of an accident.
We systematically check to ensure that the aims we set are met, and adjust these aims to the latest findings.
We are prepared to have an open dialogue with the public about the environmental impact of our business, and we would also like to involve the authorities in this.