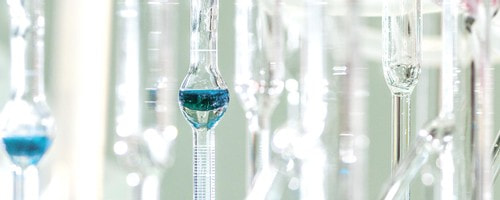 Laboratory-tested quality
Who counts on quality has to be prepared to check the own work on a regular basis. Therefore, Salus has created an extensive quality assurance system, every product has to pass.
The Salus own laboratory uses most modern methods of analysis for quality control of raw materials and products. It guarantees that the active ingredient contents required by the European Pharmacopoeia are met for all medicinal products of the company. Every product batch no matter whether food or medicinal product is extensively tested, partly even far beyond the legal requirements.
"Quality is the most important thing. We purchase only the best herbs and raw materials one can get, so we will be always on top", says Otto Greither, Salus managing director. "Therefore, we will continue to invest in our own research, so we can analyse everything, no matter whether cultivated by ourselves or from wild collection: it has to be analysed in the laboratory."
At Salus a team of scientists and laboratory technicians works on the market authorisations and quality controls. "The scope of analyses has changed by far during the past years", states Dr. Hagen Albert. The head of the scientific department points out that the extent of the analyses per year has increased between 2010 and 2015 from 7.000 to 11.000. "We have to have a much closer look on the samples", he explains. Environmental toxins as mycotoxins, polycyclic aromatic hydrocarbons or pyrrolizidine alkaloids have come more and more into the focus of the quality assurers.