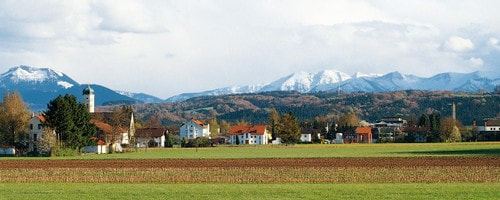 Supporting the region
The Salus company philosophy comprises a lively social interaction. Therefore it is important for us to support institutions in our region such as the volunteer fire department, the youth social work in the community and the regional food banks. At this point we would like to present some special projects and actions.
Advent calendar from Eglharting workshops
"Right at the start of the year, our workshop employees ask when the tea will eventually arrive," says Rudolf Kaiser, technical manager of the Eglharting workshops. These are part of the Steinhöring facilities association. People with physical or mental disabilities live and work there, in full time sheltered housing, where they take care of themselves as far as possible. The concept of Eglharting workshops is that workshop employees should lead a largely independent life.
From the end of June to the beginning of October, Salus sends the tea bags and the packaging material to the workshops. The people working there then produce the advent calendar ready for sale, together with the group leaders. The calendar combines 24 different tea types.
Children's Village Irschenberg
For many years Salus has been supporting the Children's Village not far from the company premises in Bruckmühl. Thus, our 100-years anniversary was a good opportunity to collect donations for it. At the open house day at Salus the visitors could only pay with so-called "Salus dollars". The dollars which had not been used could be changed back to euros at the exit or donated for the Children's Village. Moreover, many Salus employees, who worked at the event, voluntarily donated their hourly wages. 13,000 EUR were donated in total.
Solidarity with the flood victims
After the heavy floods in the alpine region in 2013, the Salus employees voluntarily gave up their annual company outing. They wanted to donate the funds kept aside for it to those that had been affected. Otto Greither spontaneously further rounded up this amount. "People are important – and in a crisis such as this one, there is no alternative to solidarity," stresses Greither.