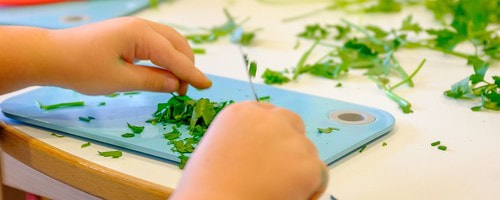 An own herb garden
A special kind of commitment: our herb garden project "Lichtblick Hasenbergl"
In March 2010 Otto Greither gave the Salus herb garden to the support institution for "Lichtblick Hasenbergl" [Hasenbergl ray of hope] in Munich. In the spacious "smell, taste, feel and use garden" children from socially deprived families can cultivate and harvest herbs and plants themselves. That is how they playfully get to know nature, vitamins and healthy food. To give children at an early age a feeling for nature and good nutrition is especially important for Salus. "The children must experience how they themselves can influence their entire quality of life, if they start paying attention to their health from the start," says Otto Greither.
Every year in spring the Salus employees coordinate the planting campaign together with the corresponding herb garden team. Afterwards the children learn in an herb cooking course how to use their harvest in a tasty meal and, as a reward in the summer they are invited to make an adventure trip to the Salus alluvial forest biotope in Bruckmühl.