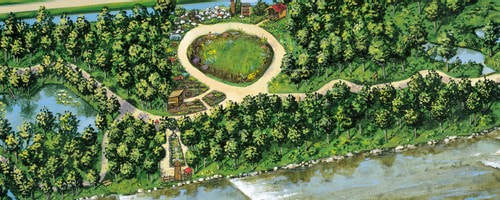 Salus alluvial forest biotope
Very close to the Salus company premises in Bruckmühl, Upper Bavaria, at the banks of the idyllic river Mangfall, there is the Salus alluvial forest biotope.
Salus owner Otto Greither bought the alluvial forest area in 1995 and made it his task to maintain one of the last natural alluvial forests in the region for posterity. A varied nature trail leads through the forest with its numerous animal and plant species. Off the trails, nature is mostly undisturbed and represents a safe haven for animals and plants. Fallen trees are left on the ground and become an important habitat for insects and mushrooms.
In order to take care of the 6000 visitors per year, a FÖJ position (voluntary ecological year) was especially created. Close to the biotope there is the nature museum of the community. Otto Greither donated the building, which was constructed from wood in harmony with nature, to the community Bruckmühl.